BIGBANG's 12th Anniversary Congratulatory Poster… YG's First Teen Idol Group "Everyone is Waiting For"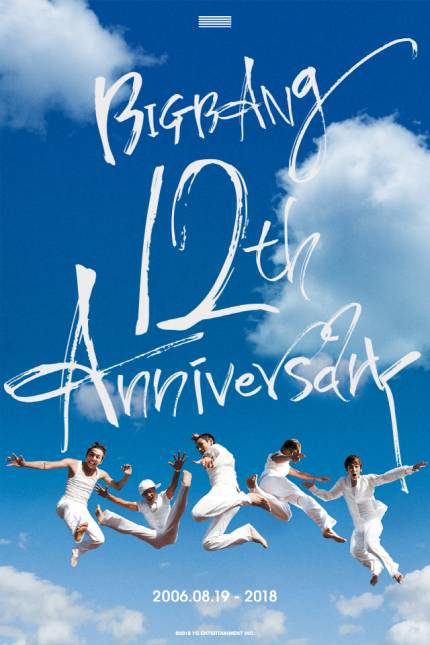 [서울경제=최주리 기자] BIGBANG celebrated their 12th year anniversary since debut.
Today (19th), YG Entertainment revealed a congratulatory poster celebrating BIGBANG's 12th anniversary since debut, through their official blog.
The poster included phrases 'BIGBANG 12th Anniversary' and '2006.08.19 – 2018' with members of BIGBANG jumping on a blue sky. The fresh charms of the 5 members which reminded people of their debut years caught the viewers' attention.
BIGBANG made debut on August 19, 2006 through YG Family's 10-year Anniversary Concert. They were the agency's first teen idols prepared for 6 years and received spotlight as soon as they made debut.
Their skillful rap, vocals, and stage manners made them become one of the global K-Pop stars, while receiving positive reviews from the music industry worldwide. Also, the sophisticated and trendy 'BIGBANG Style' received attention from the global fashion industry.
The group set a milestone in K-Pop history with songs that moved the listeners' hearts including 'LIES', 'HARU HARU', 'FANTASTIC BABY', 'LOSER', 'BANG BANG BANG', 'FXXK IT', and 'FLOWER ROAD'.
BIGBANG currently holds 13 MVs with over 100 million views including 'FANTASTIC BABY' and 'BANG BANG BANG' with over 300 million views. Despite the group's recent vacancy due to the members' enlistments, the MV for GD X TAEYANG's 'GOOD BOY' surpassed 200 million views while BIGBANG's MVs for 'SOBER' and 'HARU HARU' surpassed 100 million views, proving the group's unchanged status as 'god-BANG'.
While BIGBANG faced their 12th anniversary, 4 members of BIGBANG are currently serving their military duties including T.O.P who enlisted last year, and G-DRAGON, TAEYANG, and DAESUNG who enlisted in early 2018.
The song 'FLOWER ROAD' released on the date of DAESUNG's enlistment displayed a strong presence by dominating various music charts, including Melon. The song also topped US Billboard's 'World Digital Song Sales' Chart, and Japan's iTunes Comprehensive 'TOP SONG' Chart. The song received tremendous support and popularity as an event release, without a MV or special promotion.
'FLOWER ROAD' contains more meaning since the leader G-DRAGON and the eldest member T.O.P wrote the lyrics themselves. BIGBANG memorized the moments with their fans unchanged for the past 12 years since debut, hoping for the day they meet again.
2018. 8. 19.