BIGBANG Surpassed 10 Million Subscribers on YouTube… Becomes 'Diamond Creator' [OFFICIAL]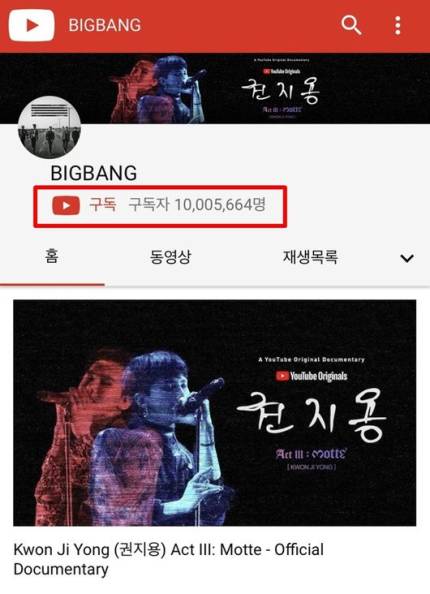 [OSEN=선미경 기자] Group BIGBANG surpassed 10 million subscribers on their official YouTube channel, winning the 'Diamond Creator Award'.
As of today (10th) at 10 AM, BIGBANG had approximately 10 million and 6 thousand subscribers.
YouTube awards its users who have over a certain number of subscribers with a trophy, acknowledging their influential power. BIGBANG who has over 10 million subscribers will be awarded with the best trophy called 'Diamond Creator Award', also known as the 'Diamond Play Button'.
YouTube gives out three types of trophies as part of their 'YouTube Partner Awards'. They award Silver for users with over 100 thousand subscribers, Gold for those over 1 million, and a 'Diamond Creator Award' for users with over 10 million subscribers.
By surpassing 10 million subscribers on YouTube which is regarded as an objective indicator of popularity and awareness overseas, BIGBANG once again proved their status as a global top-class artist group.
BIGBANG currently has 13 music videos with over 100 million views including 'Fantastic Baby' and 'BANG BANG BANG', which have accumulated approximately 300 million views. The group recently surpassed 200 million views on the music video for GD X TAEYANG's 'GOOD BOY' and surpassed 100 million views on videos for 'SOBER' and 'HARU HARU' despite the members' vacancy due to enlistments, with the steady support from global fans.
While facing their 12th anniversary since debut, 4 members of BIGBANG are currently serving their military duties. Following T.O.P's enlistment last year, members including G-DRAGON, TAEYANG, and DAESUNG enlisted this year to serve for their country. The youngest member SEUNGRI is currently actively promoting his album while filling up the vacancies by other members.
2018. 9. 10.