[OFFICIAL] BLACKPINK Has 5 MVs with Over 300 Million Views Including 'WHISTLE'… 'The Most Figure Among K-Pop Girl Groups'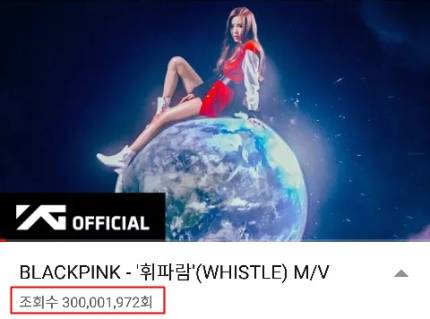 [스포츠조선닷컴=정안지 기자] BLACKPINK's 'WHISTLE' surpassed 300 million views.
As a result, BLACKPINK became the one and only group to hold 5 MVs with over 300 million views, in 2 years and 5 months since making debut.
The MV for 'WHISTLE' surpassed 300 million views on the 4th at 10 PM on YouTube, and YG Entertainment uploaded a celebration poster through their official blog. 
The song 'WHISTLE' was released as the double title song of BLACKPINK's debut single 'SQUARE ONE' released on August 8, 2016, along with 'BOOMBAYAH'. 
The song 'WHISTLE' has achieved a 'perfect all-kill' on all music platforms as soon as it was released. The MV for 'WHISTLE' which received favorable reviews with its colorful and sophisticated visuals grabbed the public's eyes and ears with the 4 unique and flashy visuals of the members and its unique melody line. 
The song 'DDU-DU DDU-DU' became the fastest MV to reach 500 million views, while the MV for 'AS IF IT'S YOUR LAST' became the fastest MV to surpass 400 million views. The MV for their debut song 'BOOMBAYAH' also surpassed 400 million views. 
Including the MV for 'PLAYING WITH FIRE' which recently surpassed 300 million views to 'WHISTLE', BLACKPINK added another MV with over 300 million views to their collection.
In addition, BLACKPINK's 'choreography videos' for 'DDU-DU DDU-DU', 'AS IF IT'S YOUR LAST', and 'BOOMBAYAH' surpassed 100 million views on YouTube, proving the explosive interest of the global fans towards BLACKPINK's choreographies. Including JENNE's 'SOLO' which became the fastest MV by a Korean female solo artist to surpass 100 million views, all 7 MVs released by BLACKPINK ever since debut surpassed 100 million views, which proves the group's massive influence. 
BLACKPINK is also the K-Pop group with the 'most number of subscribers' on YouTube, with approximately 16 million subscribers. They also received the 'Diamond Creator Award' from YouTube for the first time as a K-Pop girl group last year on August.
The industry officials in the US have recognized BLACKPINK's global presence through YouTube. BLACKPINK partnered with Interscope Records, which is the representative music of Universal Music Group (UMG), notifying the group's expansion in to the US market. The people are paying keen attention on how high BLACKPINK will rise after making an official challenge towards the global music scene. 
BLACKPINK will hold their first-ever world tour on January and continue their act as a global girl group by performing in various cities of the world.
2019. 1. 4.