BLACKPINK, From US Broadcast Appearance→Concert in Singapore… 'Globally Active'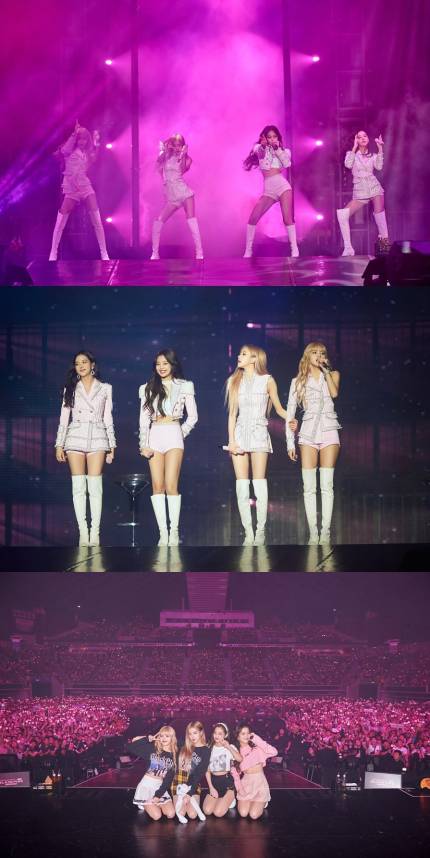 [스타뉴스=한해선 기자] Group BLACKPINK held a concert in Singapore, the fifth city of their Asia tour locations, right after their appearance on a US TV show. The group fascinated the local fans with their professional attitude despite a rigorous schedule.
Last month on the 15th, BLACKPINK held the 'BLACKPINK 2019 WORLD TOUR with KIA [IN YOUR AREA] SINGAPORE' in Singapore Indoor Stadium.
Starting with Universal Music Group's 'Grammy Artist Showcase', BLACKPINK went through their promotion schedules of US TV program appearances and held a concert in Singapore. Despite their busy schedule, BLACKPINK displayed a professional attitude while performing.
The group started their first-ever concert in Singapore glamorously using special effects such as lasers, fireworks, and fog. They performed their biggest hit-song 'DDU-DU DDU-DU', which currently has the highest view count among all MVs released in K-Pop history, along with 'FOREVER YOUNG', 'STAY', and 'WHISTLE'.
BLACKPINK communicated with the local fans by mentioning 'Chili Crab', the famous Singaporean seafood dish. The local fans smiled at BLACKPINK, who tried to connect with the fans by mentioning famous food and tour locations of Singapore.
The solo performances of JISOO, LISA, ROSÉ, and JENNIE presented the members' individual performances filled with charms, making the audiences cheer. The fans created a beautiful scene by cheering while shining varied colors of lights using their phones.
In addition, the fans of Singapore surprised BLACKPINK with their passionate support of waving 'Bbyong Bongs', BLACKPINK's official lighting sticks, and singing-along to the songs in Korean. When BLACKPINK performed 'STAY' as an encore, the fans touched the members' hearts by holding a banner that read, "ALWAYS STAY WITH BLACKPINK".
With their final performance ahead, BLACKPINK expressed their gratitude by stating, "We would love to come back to Singapore. Thank you for enjoying the show. I love you", and memorated their first-ever concert in Singapore by taking photos with the fans on stage.
Starting with their concert in Bangkok held last month on the 11th, BLACKPINK is meeting the fans all over the world through their first-ever world tour. They have held concerts in Jakarta, Hong Kong, Manila, and Singapore, and are scheduled to hold concerts in Kuala Lumpur on the 23rd and 24th. They will then visit Taipei and advance to North America, Europe, and Australia.
BLACKPINK has recently appeared on 'The Late Show with Stephen Colbert', CBS' representative late-night talk show, 'Good Morning America, GMA', ABC's representative morning news program, and Strahan and Sara(GMA Day), completing their US debut promotion in success.
2019. 2. 16.