BLACKPINK Reveals Behind-the-Scenes of Their Bangkok Concert Through 'BLACKPINK Diary'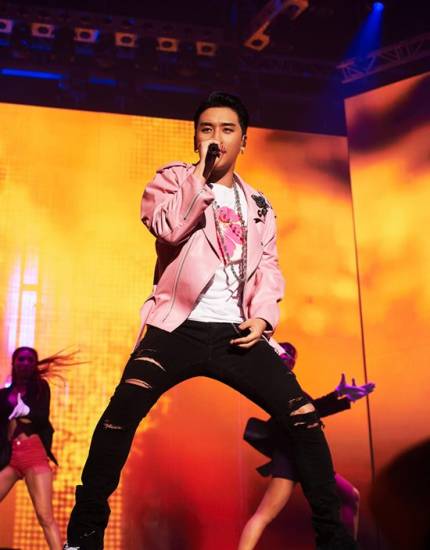 [엑스포츠뉴스=전원기자] "It was due to my negligence".
On February 16, SEUNGRI's first solo tour 'SEUNGRI 1st SOLO TOUR THE GREAT SEUNGRI FINAL IN SEOUL' was held in SK Olympic Handball Stadium located in Olympic Park, Seoul.
SEUNGRI started out by apologizing to the fans prior to the concert beginning. That is, it was his first official appearance after the Burning Sun controversy.
SEUNGRI started out by stating, "I would like to talk about the recent controversy. Otherwise, I thought the people here may feel uncomfortable. I am sorry towards the people who supported me. I am sorry to disappoint many people and I feel responsible".
He continued, "Despite the controversy, I did not act responsibly. Although the incident happened in a place where I mentioned publically, I am ashamed and regretful that I did not show a responsible behavior. It's my fault".
He added, "As I am a celebrity, I will try to think deep and cautiously. I'm sorry for being careless and modest".
SEUNGRI stated, "I've worked hard last year to enjoy yourselves. But I am ashamed that I held you down. I will pay attention to all the criticisms and opinions".
However, SEUNGRI promised to do his best on his concert. He stated, "I prepared a lot. I would appreciate it if you would enjoy the show. Then I will feel fruitful for my preparations".
Afterwards, SEUNGRI performed BIGBANG's 'BANG BANG BANG' as his first track and made the crowd react by performing solo tracks and BIgBANG songs.
SEUNGRI performed 'GG BE', 'Gotta Talk to You', 'GOOD LUCK TO YOU', 'ALONE', 'IF YOU', 'MOLLADO', 'WHERE ARE YOU FROM', and 'HOTLINE'.
In addition, he prepared performances that will remind viewers of the time he appeared on 'Masked Singer'. SEUNGRI stated, ""I thought I should do everything I can. I appeared on 'Masked Singer' to show that I'm not a bad singer" and performed 'Pinochio', making the crowd applaud.
'Pinochio' is a song by Roy Kim. SEUNGRI explained, "I told Roy Kim ghat I'll be performing 'Pinochio' on today's concert and he replied, 'I miss you'. I'm sad that he's studying in the States".
SEUNGRI expressed his reminiscence towards members of BIGBANG. He also presented bog laughter by showing resembling faces of BIGBANG members and joked, "T.O.P still has a video of me taking a shower".
SEUNGRI confessed, "I will meet the members soon. My brothers will come out in the end of the year (discharged) and I'm going in soon".
SEUNGRI also prepared a 'BIGBANG medley' for the fans. He made the fans cheer by performing 'WE LIKE 2 PARTY', 'HEAVEN', 'LIES', 'CROOKED', and 'BEBE'.
Many male fans came to the concert to watch SEUNGRI perform. Some fans came to his concert during their lilitary vacation.
SEUNGRI told them, "I'm going soon. I'll be back". He saw his fans from the army and happily stated, "I didn't have many incidents to laugh about".
He also sang BIGBANG's 'FLOWER ROAD' and revealed his confidence by stating, "These lights will shine us. We'll get stronger".
The last song was SEUNGRI's '1,2,3!'. The fans reacted passionately with a standing ovation.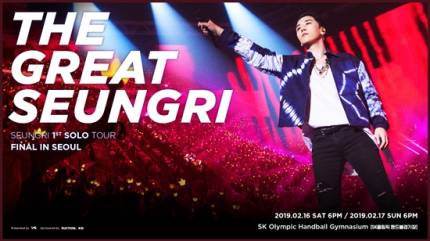 Meanwhile, SEUNGRI has been through difficulties due to the assault that happened in Burning Sun, known as the 'SEUNGRI club'. The incident that started from a violent behavior by a related official spread on to controversies on police bidding allegations, sexual assaults within the club, illegal video filming, and even drug abuse controversies.
Regarding these allegations, SEUNGRI explained that he did not engage in such activities but apologized, "I will actively assist on revealing the truth and hope for a strict punishment if their were any faults".
Despite the criticism, SEUNGRI is going through his solo tour. Starting from Hong Kong on January, he finalized concerts in Manila and Tokyo. On February 23, he will perform in Singapore, in addition to his concert in Osaka on March 9~10th, and in Kalarta on March 17. This will be SEUNGRI's last overseas tour before his enlistment to the army.
2019. 2. 16.