BLACKPINK Reveals Behind-the-Scenes of Their Bangkok Concert Through 'BLACKPINK Diary'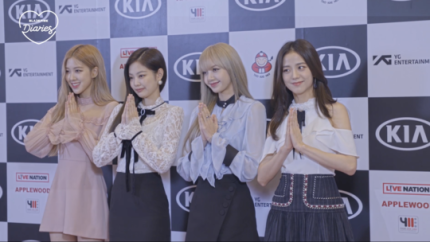 [뉴스엔=황수연기자] BLACKPINK revealed the first episode of the BLACKPINK Diary, which revealed the behind story of BLACKPINK's concert in Bangkok.
On February 16 at 4 PM, YG Entertainment uploaded the first episode of thr BLACKPINK Diary through their official blog. The video revealed the daily lives of BLACKPINK, who visited Bangkok, Thailand for their concert.
BLACKPINK appeared in a press conference where reporters from over 70 media channels gathered. The heated reactions by the reporters proved BLACKPINK's popularity in Tamhailand.
LISA who visited her hometown revealed her excitement by stating, "I wanted to come to Thailand so bad. I wanted to show our concert to our fans in Thailand".
As Bangkok is LISA's hometown, the local fans showed heated reactions from the airport. The fans welcoming BLACKPINK's visit to Bangkok created an unusual scene, while proving the group's huge popularity.
The members followed through a self-camera video, revealing their thoughts on their first-ever concert in Bangkok. LISA stated, "It was more nervous and exciting since it is my hometown", revealing her affections towards the local fans. JISOO revealed her love towards the fans by asking, "We'll show you a lot of our aspects during our tour, so let's go together BLINK. We're going together, okay?".
Furthermore, LISA also presented a happy image of a father and daughter through her hometown visit. ROSÉ who was at the scene presented a 'Beijing duck' mukbang with a new-form of ASMR, making the viewers laugh. In addition, the first episode of 'BLACKPINK Diary' also revealed behind stories on BLACKPINK's Thai convenience store episode, and much more.
After successfully completing 3 concerts in Bangkok to notify a successful start of their world tour, BLACKPINK also successfully finished their concerts in Jakarta, Hong Kong, Manila, and Singapore with the fans' heated reactions. BLACKPINK is scheduled to hold concerts in Kuala Lumpur on February 23rd and 24th, and then visit Taipei.
BLACKPINK will hold a world tour not only in Asia, but also in North America, Europe, and Australia to continue their act as a global girl group. In addition to their upcoming performance at 'Coachella', the largest music festival in the US, they will go on a North America tour consisted of 6 concerts in 6 cities including Los Angeles and Chicago. On May, they will perform in 6 representative regions of Europe including London, Manchester, and Paris.
While finalizing their tour schedules in Europe and North America, BLACKPINK has recently appeared on 'The Late Show with Stephen Colbert', CBS' representative late-night talk show, 'Good Morning America, GMA', ABC's representative morning news program, and Strahan and Sara(GMA Day), completing their US debut promotion in success.
2019. 2. 16.