YG's R.TEE X ANDA Reveals Second Teaser for 'What You Waiting For', "Fiery Red"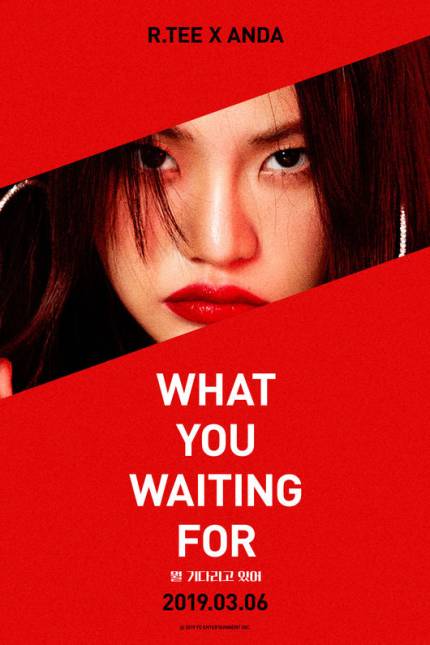 [OSEN=지민경 기자] The second teaser poster for R.TEE X ANDA's 'What You Waiting For' to be released on March 6 has been revealed.
Today(18th) at 1 PM, YG Entertainment uploaded the second teaser poster for R.TEE X ANDA's 'What You Waiting For' through their official blog. 
On the second teaser which presented fierceness with a red background, ANDA portrayed a seductive atmosphere with her chic eyes, grabbing the fans' attention.
R.TEE and ANDA has previously announced the title of the song, 'What You Waiting For', and its release date as March 6 through a teaser containing half of the faces of both artists, raising anticipations on their upcoming release. 
The collaboration will be in the form of Anda singing on a track composed by R.TEE. The song has a high degree of completion as it was regarded as one of the new candidates for BLACKPINK's upcoming project. 
YG's representative producer YANG HYUN SUK has previously notified that YG will be in charge of the song's promotion through FROM YG on the 12th by writing, "Producer R.TEE from The Black Label, which TEDDY is in charge of, and ANDA, YGX's first solo artist, will release a collaborative song on March 6".
R.TEE is a composer of The Black Label who has participated in composing hit songs including BIGBANG's 'FXXK IT', BLACKPINK's 'PLAYING WITH FIRE', and 'DDU-DU DDU-DU'. ANDA is an artist who representative YANG has been keeping an eye on and has amazing charms and solid skills, enough so that he ordered YGX to sign her himself. 
With the start of the upcoming collaborative project, YGX will continue to release ANDA's solo songs to firmly establish her position in the K-Pop scene as a female solo artist in 2019. 
2019. 2. 18.