US Billboard, "iKON's Concert, the Most Buzzed About SXSW Social Media Event"… Receives Spotlight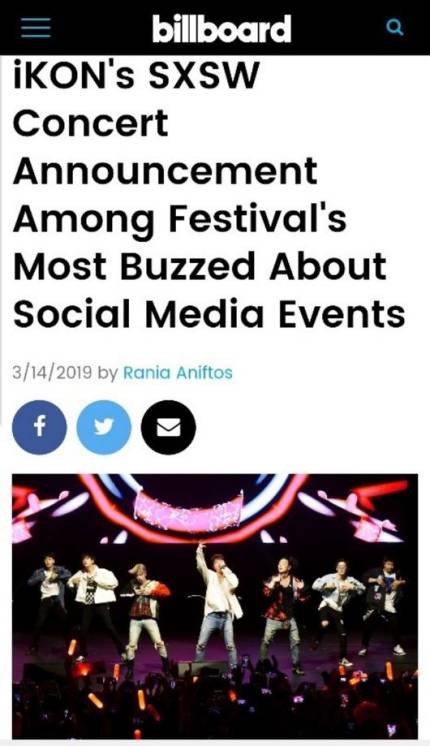 [OSEN=선미경기자] iKON, who recently performed at 'SXSW', the world's biggest music festival, received Billboard's spotlight by receiving the most buzz on social media.
On March 14(local time), Billboard spotlighted iKON's performance at SXSW with an article titled, 'iKON's SXSW Concert Announcement Among Festival's Most Buzzed About Social Media Events'.
Billboard mentioned specific figures by writing, 'K-Pop band iKON was mentioned 79,000 times in connection with SXSW after they announced their performance at the festival, and generated 255,400 engagements', which also proved the group's global influence.
They also spotlighted iKON's immense social media power by adding, 'This is the first-time a specific non-political activity takes the lead during this year's SXSW social media activity, according to a press release. Additionally, the biggest buzzing hashtags include #iKONatSXSW, #iKON and iKONisComingUSA with 2,400 mentions'.
On March 13(local time), iKON decorated the finale of the 'Korea Spotlight' showcase of 'SXSW' held in ACL Live at The Moody Theatre located in Austin, Texas, as Korea's representative group.
While approximately 3,000 audiences gathered, iKON performed a total of 10 hit songs including 'KILLING ME' which was the opening song, 'RHYTHM TA(Rock ver.)', 'LOVE SCENARIO', 'MY TYPE', and 'FREEDOM'. iKON received heated responses on their first-ever 'SXSW' performance in the US by becoming a big issue on social media.
'SXSW', which started back in 1987, is one of the 3 largest music markets of the globe in addition to UK's 'The Great Escape' and France's 'MIDEM'. The festival is held every year during the Spring and is known as the largest music festival of the US which gathers approximately 2 thousand musician teams and 20 thousand staff members from 50 countries. 
2019. 3. 17.