BLACKPINK Reveals 3rd Episode of 'BLACKPINK DIARIES'… Behind-the-Scenes of Their World Tour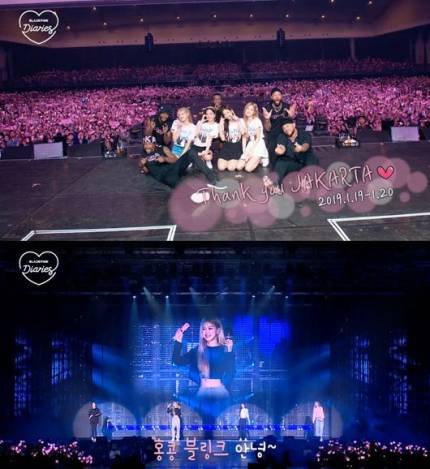 [OSEN=선미경기자] Girl group BLACKPINK revealed behind stories of their tour in Indonesia and Hong Kong.
On March 17 at 2 PM, YG Entertainment uploaded the third episode of BLACKPINK DIARIES through their official blog.
The video which contained behind stories of the group's tour in Hong Kong and Indonesia, started with JISOO and JENNIE on a plane. JISOO and JENNIE showed excited smiles while stating, "We're going to Indonesia for our second concert".
Many local fans of Indonesia were sitting around the venue while looking forward to BLACKPINK's concert. The fans shared welcoming messages to BLACKPINK and performed point moves themselves, looking all excited.
Prior to the beginning of the concert, JISOO filmed a message video for the fans while presenting a cup-ramen mukbang. JENNIE prepared for her performance by stretching and checking detailed moves along with LISA.
After getting up on stage, BLACKPINK successfully completed the concert under amazing cheers and pink waves of local Indonesian fans.
BLACKPINK then moved to Hong Kong. While looking around the concert venue, ROSÉ spent a joyous time with the staff who were working hard in sweats to prepare a perfect stage. The time for rehearsals began, and the members of BLACKPINK got on stage with fluttering hearts to meet the fans while making happy smiles.
After completing their Asia tour, BLACKPINK will continue their global act with a large-scale world tour which follows up to North America, Europe, and Australia. All 60 thousand tickets for the group's concerts in 6 cities of North America were sold out, leading the group to add 2 additional concerts and confirming a total of 8 concerts in 6 cities of North America, proving the group's amazing ticket power.
2019. 3. 17.