BLACKPINK's Coachella Domination for the 'First Time as K-Pop Idols'
[노컷뉴스=유원정 기자] BLACKPINK performed at 'Coachella Festival', the world's biggest music festival.
For the first time as a K-Pop idol group, BLACKPINK performed at the Sahara stage of 'Coachella Valley Music and Arts Festival', held in Indio, California on the 12th(local time) at 8 PM.
After appearing on stage with the audience's cheers, BLACKPINK started their show with 'DDU-DU DDU-DU'. As it was the song that reached the highest rank on Billboard's 'Hot 100' chart among all songs released in K-Pop girl group history, the local audience responded with heated reactions. 
BLACKPINK induced the people to respond by stating, "It's an honor to perform at 'Coachella'. Our dreams came true" and adding, "Please sing along with us".
The followed up with various performances including their debut track 'WHISTLE', 'KISS & MAKE UP' collaborated with global Pop star Dua Lipa, and JENNIE's first-ever solo track 'SOLO'. 
The performances of their new song 'KILL THIS LOVE', their sub-title song 'Don't Know What To Do', and 'Kick It' were the highlights of BLACKPINK's Coachella performance. As soon as these performances were over, 'BLACKPINK X Coachella' was ranked at no. 1 on Twitter's worldwide real-time trend rankings.
Well-known celebrities and artists also supported BLACKPINK. The founder of Coachella Festival, Paul Tollett, watched BLACKPINK perform himself, while John Janick of Interscope Records, the representative label of Universal Music Group, Jaden Smith, the famous American rapper, and DJ Diplo also visited their waiting room to show their support.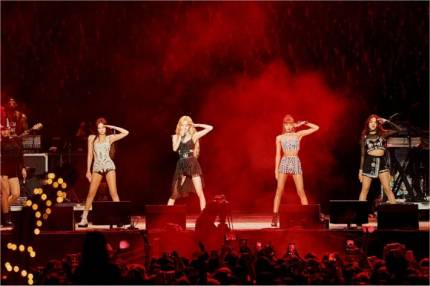 The members were deeply moved and stated, "We didn't know so many people would come to watch us perform".
ROSÉ who grew up in Australia, JENNIE who studied in New Zealand, and LISA who was born in Thailand showed fluent English skills, while JISOO also communicated with the audience. The crowd waves that were usually displayed during solo concerts also grabbed the people's attention.
The stage directing also played a big role in raising up the mood. The grand visuals coming from a large LED screen and sensible lights and laser effects stood out, while the live band composed of bass, guitar, drums, and keyboard showed off their abundant performance skills.
After raging 13 representative songs in approximately an hour, BLACKPINK revealed their thoughts by stating, "We felt that we can become united with music, although we come from different cultures. It was a performance we'll remember forever". 
Starting in Los Angeles on the 17th, BLACKPINK will go on their North America tour. On the 19th, they will perform at 'Coachella' for the second time, to meet the music fans once again.
2019. 4. 14.